Software Protection Policy
Protecting Your IPAD Investment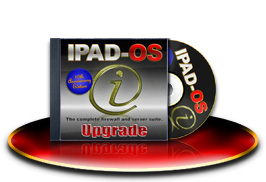 The IPAD-OS is one of the most stable, secure and reliable operating systems available, but that doesn't stop the IOA Development Team from finding new and exciting ways to improve the performance, enhance your protection, tighten security and add new features.
IOA has embarked on an ambitious plan to develop, fully test and release multiple new versions of the IPAD-OS each year. This means you get new features sooner and have faster access to the most stable and secure IPAD version possible.
We know that some of our corporate and government IPAD owners need to set annual budgets to help predict and control costs and other members need the best deal for keeping their IPAD-OS current. We are now offering an update on the old software maintenance contract that IPAD owners relied on in the past.
This is why we have created the Software Protection Policy (SPP) that is now available for the IPAD model 2500 and the IPAD model 5000.
About Software Protection Policy
A Software Protection Policy authorizes your IPAD to freely receive every update and upgrade released while your policy is active. This gives you many benefits over buying individual upgrades.
New Software Protection Policies are only available for the current IPAD-OS 9.0 version. You must be an IOA member in good standing to subscribe to a Software Protection Policy directly from the IOA.
Special links inside your IPAD can be used to check for new versions at any time, 24 hours a day. You may also ask your IPAD to send you an email reminder about the download site locations.
You may optionally sign up for automatic email notification when new versions are available.
You will have optional access to preview versions of each new release candidate which gives you access to new features before the official version release. Note that all release candidates have expiration timers to prevent using pre-release software after the official version is released.
You will have a predictable, affordable and fixed price that covers all IPAD-OS releases made while your policy is active.
You will have a lower total cost to maintain your IPAD with the latest protection, features and benefits.
Your annual costs will be fixed and easy to budget.
Note: The Software Protection Policy is not available for the IPAD model 1200. Please contact the IOA or your authorized IPAD reseller for information about a model upgrade.
Software Protection Policy Requirements
You must own an IPAD with an unique serial number.
You must be a full member of IOA, and your dues must be current, at the time of release of each update or upgrade.
Your IOA domain registration account must be in good standing.
You will be required to purchase the most recent released version of the IPAD-OS software before the policy may be applied to your IPAD.
Pricing
The Software Protection Policy price includes a year of IOA membership dues for the first IPAD covered. If you have already paid your dues, your membership is automatically extended an additional year. Each additional IPAD can be covered at a reduced price and does not extend your IOA membership.
You may still purchase IPAD upgrades ala carte if you choose not to subscribe to the Software Protection Policy.
Membership is based on the IOA fiscal year (June 1 through May 30). You must be a member in good standing to purchase any IPAD products directly from the IOA.
Version 9.0 upgrade from 8.0, is available for either the model 2500 or the model 5000. If you have a version older than 8.0, please contact us for the upgrade price.
The individual price for these releases will always be more than the Software Protection Plan, but may be significantly higher based on actual development costs.
We want to make it easy for your budget to afford to keep your IPAD current. A Software Protection Policy is your best way to know for sure that you stay current for one price.
Follow this link to sign up for the IPAD-OS Software Protection Policy today!!